We Have Moved- If your Not Automatically Switched Over click the Banner!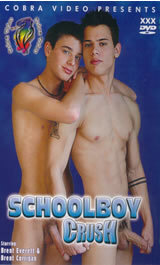 Schoolboy Crush DVD *Bareback* ~~~~ Two Hours and 5 scenes of the Hottest Twinks having Bareback Sex will get you Rock hard and Wet.
18 year old virginboy Benny hangs outside hunky Shaun's apartment hoping to get his attention. Shaun quickly finds out that this boy is cherry and accepts the challenge to break the boy in. Benny quickly finds out how pleasurable it is to bottom. Shaun fucks him till he squirts, then licks the juice from his belly. Then, curious about the taste, Benny sucks off Shaun and Shaun squirts his load onto his face and in his mouth.
Jeremy leads his friend Chase back to his bedroom and seem rushed and waste no time in ripping off each others clothes then Chase pins him on his back and they kiss and grind their bodies together. They take turns sucking and Jeremy then gets put on his knees, with Chase rubbing his cock against his hole. He slides inside Jeremy and fucks him now with his belly against the sheets, then gets flipped over in a scissors position. Jeremy gets pounded till his juice puddles onto his belly. Chase pulls out and getting over Jeremy, empties his huge load all over his face.
Prince and Brent E go at it next. Prince is forced to suck Brent E's very thick cock. Brent rips the shirt off the Prince and pushes him against the chair, taking the Prince's huge prick all the way down his throat. He bends our boy over and spreads his silky smooth cheeks to tongue his tight hole, and as the Prince moans, he tongue fucks him. Prince Brent asks to be fucked, and what follows will truly be another instant Cobra classic. After 4 different positions of getting pounded, The Prince squirts while Brent E drives his huge cock deep and then he pulls out to squirt one of the biggest loads you will ever see into Prince Brent's eyes, mouth, face, chest, well all the way down to his balls.
Ryann is working out in the back garage on his weight bench and Lance comes down for a visit. On thing leads to another and Ryann strips down to his jock, then give Lance some tongue action as well. He tells Lance that he wants him to sit on it, and Lance squats down over his hard cock, slowly taking it. He rides it until Ryann decides he wants to stand and bends our long haired pale cutie over the bench. What follows is a roller coaster of a ride and most definitely the noisiest bottomboy you will see this year. Ryan is slamming hard and pulling Lances locks while slapping his ass (poorboyz red ass) Ryann started slamming his butt so hard that our new cutieboy couldn't hold back and without touching himself, spontaneously squirts his load all over the weight bench. Ryann flips Lance over and jacks off over the boyz mouth dribbling his venom into his mouth and over his face.
Brent E, Chase and Jeremy are studying together and Jeremy finds he doesnt have the book he needs for his report. He fumbles through his back pack and a porn falls to the floor, capturing the other guys attention. They want to watch it, but Jeremy insists that they finish their college work first and leaves to the library to get his book. Of course as soon as he leaves, Brent E and Chase decide to watch the porn and soon have their hard meat out and jackin. Prince Brent spies them from the doorway and is very turned on seeing the guyz hard. They catch him watching and he's ordered to come over. Brent is put on his knees and made to service Brent E and Chase, sucking one then the other. Soon they pull of the Prince's clothes and have him up on the couch, all of them sucking and kissing. Prince Brent is put up on his knees and he sucks on Brent E's thick cock while Chase rimms his tight hole. The position is reversed and Brent E is sticking his tongue inside. Brent E Pulls our boyz smooth ass against him and grinds until Chase tells him to stick it in. Brent E plunges his hard 8 inches inside and Prince Brent is sucking on Chase while getting plowed by Brent. Chase becomes seated and Prince Brent lowers himself down slowly, then Chase gets his turn fucking Brent's tight hole. Brent E says he wants some too and pushes the Prince back against Chase's chest. Now, in our first ever double penetration scene, Brent slides his cock inside our boyz tight hole but it pops back out. On the second attempt it goes in and Brent E is pumping and grinding along with Chase, you can see how our Brent is liking the attention. Brent E gets up and places Prince Brent on his side and pumps his ass as Chase dumps a huge creamy white load all over the boyz face. Brent E is pumping harder and the Prince jacks until his spurts out onto the spread, and his leg. Brent E pulls out and in his classic finish, does a 4 foot squirt that hits Brent in his face and chest as well as Chase.


Order #DVD-8004 Now Only $54.95 Save $20.00
Starring: Brent Everett, Brent Corrigan, Chase McKenzie, Shaun Ferrara, and newcomers, Benny Argento, Jeremy Spencer, Ryann Wakins, Lance Evans
Production Year: 2004
Running Time: 120 mins (approx)
Themes: Bareback Sex, 3-Ways, Twinks, 18-21, Uncut, Huge Loads
Company: Cobra Video